RELIGIOUS ETHOS


A Catholic and Christian ethos permeates the life and work of the school. Religious education seeks to complement and extend the spiritual development of the child, which has already been initiated by parents in the home. The primary aim of the religious education programmes followed by all year groups, is to enable each student to become better informed and to respond to their calling as Christians and as Catholics.

St Michael's aims to ensure that pupils grow within a living faith which:

recognises the dignity and worth of each individual

works for peace and justice in society

demonstrates a concern for the poor and underprivileged.
All Year 11 and 12 pupils follow the syllabus for NEAB GCSE Religious Studies. The subject can also be taken as an A-Level option. In addition all Year 13 and 14 pupils follow a non-examination course which supports their spiritual and moral development.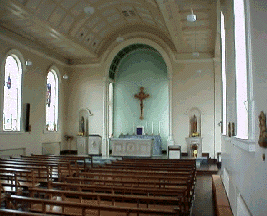 Prayer and liturgy are an integral part of the school life. The importance attached to prayer is reflected in daily Assembly, Annual Retreats and the liturgical life of the school. St Michael's is privileged to have its own Chapel as a centre for class and year Masses, group liturgies and assemblies as well as personal prayer.

Our School Chaplain is very much a part of St Michael's community, frequently leading the school community in liturgical celebrations and being available for support and counselling.